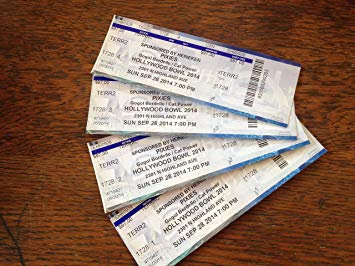 Single tickets for LA Phil sponsored shows at the Hollywood Bowl will go on sale Sunday, April 29th. Want to beat the rush and get better seats? Sign up for either a Summer Series Subscription or a Create Your Own (CYO) package. Choose five or more concerts and get best available seats before single tickets sales start. As a bonus the LA Phil is tossing in a sixth concert for free. The voucher you will receive is good for two free reserved bench seats to any Tuesday (classical), Wednesday (jazz), Thursday (classical) or Sunday (world music) concerts.
Even though the Hollywood Bowl has a fan-friendly online box office presence, many people still like to travel to the Hollywood Bowl Box office and wait in line to speak with a box office agent. For the last few seasons the Hollywood Bowl has set up a wrist band system and announcing Numbers on twitter and Facebook. It's time to start planning your summer!
Father John Misty (June 24), Flying Lotus (June 17) and Reggae Night XVII (July 1) are currently on sale.