One of the nicest things about attending a performance at The Hollywood Bowl is that it is more than just the show.  It is the ultimate dinner and a show.  The location makes a great place to picnic before the concert begins.  There are many choices for dinner.  Below are a few of my favorites.
Bring Your Own Dinner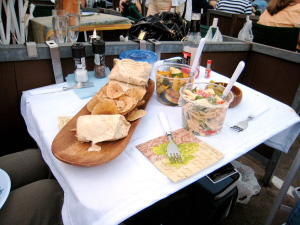 This is the one I enjoy the most.  I get up early and head to the market to start planning the meal.  We start out with appetizers, followed by the meal.  We also have a dessert but often wait until intermission for that.  I always look around at other diners to get ideas for the next visit.  I am always amazed at how much fun people have with their meals.  To keep things cold we freeze water bottles and use them as ice.  By the end of the night they melt and provide a refreshing drink before heading home. Remember for most subscription performances alcohol is allowed.  Most of the leased events alcohol is prohibited.  Always check with the box office to be sure.
Pre-made Picnic
Many of the upscale markets like Whole Foods, Gelson's and Trader Joe's offer complete pre-made dinners.  Order a few days before and stop by the day of your concert to pick up the finished product.  Not as much fun (IMHO) however a great time saver.
Box Service
You can get dinner delivered right to your box.  The Patina Group offers either a box dinner (which will be waiting for you when you arrive) or a full three-course meal served by a wait staff.  Either way you need you need to order a few days before and provide a credit card. I can vouch for the lobster roll!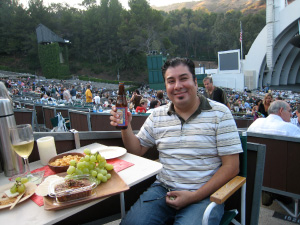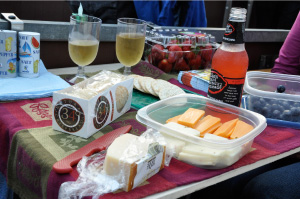 On-site Restaurants
The last option for dinner is to eat at one of the eateries at the Bowl.  The experience is made up of sit down, grab and go and refreshment stands.  The food is solid just a bit pricey.