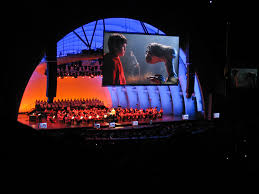 The LA Philharmonic have announced that the Moody Blues will be inducted into the Hollywood Bowl Hall of Fame on Hollywood Bowl Opening Night, Saturday, June 24th. The Moody Blues are celebrating their 50th Anniversary. There will of course be fireworks and the Hollywood Bowl Orchestra will be conducted by Thomas Wilkins.
In addition the LA Phil announced that this year's Movie Night, held on Sunday, September 17th will be Hollywood Bowl Movie Night John Williams: Maestro of the Movies. As in the past David Newman will start the evening conducting the Hollywood Bowl Orchestra to featured film clips.
Both nights are always enjoyable. Nothing compares to John Williams at the Hollywood Bowl talking about the movies he has scored.