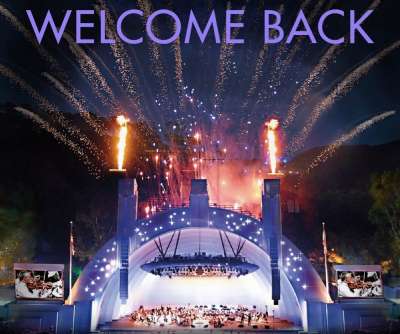 The Hollywood Bowl announced their 2021 Summer Season this morning. Thankfully, the iconic venue is back in action this summer, with more than 50 performances scheduled to take place in the coming months—all adhering to the latest reopening guidelines from Los Angeles County. Before the Hollywood Bowl's 2021 season opens up to the public, the venue will host five free concerts for healthcare workers, first responders and essential workers as a token of appreciation to all the brave individuals who helped guide Los Angeles through a pandemic.
It is an abbreviated season but super welcome compared to 2020. As in the past subscribers will get first crack at purchasing tickets to special non-subscription shows like the July 4th Spectacular. If you call the ticketing number on the Hollywood Bowl page it states that you will be able to create your own package of 3+ shows on May 27th and individual tickets will be on sale June 1st.
The Hollywood Bowl's 2021 season officially kicks off on Independence Day weekend, with a pair of July 4th Fireworks Spectacular concerts featuring funk and R&B legends Kool & the Gang (July 3 and 4). Other highlights of the lineup include pop singer Christina Aguilera (July 16 and 17), cosmic jazz bandleader Kamasi Washington (July 18), reggae artist Ziggy Marley (Aug 1), R&B singer-songwriter H.E.R. backed by the Los Angeles Philharmonic (Aug 13 and 14), electropop crooner James Blake (Sept 25) and jazz fusion legend Herbie Hancock (Sept 26).
I did notice that the ticket selection page no longer allows you to pick the exact box/seats you want. The ticket engine gives you what I assume is the next matching seat in the queue. Take a look at the complete calendar of Hollywood Bowl 2021 concerts.
EDIT: The ticket selection picker where you can pick your exact seats is back.
EDIT: Renewed subscribers will be able to add on shows outside of their subscriptions on May 27th. The one exception is the two July 4th Spectaculars, which they can access right now.