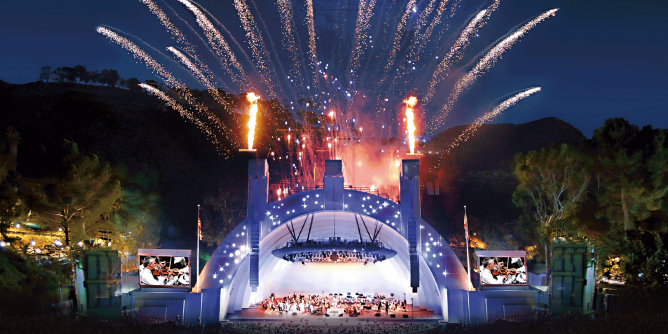 The LA Phil has released their plan to reopen the Hollywood Bowl. While there is some uncertainty in how COVID-19 cases track, it is very welcome news. Prior to June 15th LA County will still have limits on outdoor venues. In the case of the Hollywood Bowl that is 4,000. The first four concerts will be free and offered to healthcare workers, first responders, and essential workers as a gesture of thanks. LA County plans on reopening for business in full on June 15th. This should allow the Hollywood Bowl to grow to near full capacity.
Fan favorites including Fourth of July fireworks, the Tchaikovsky Spectacular and the "Sing-A-Long Sound of Music" definitely will be in the lineup, the Bowl said.
Food and drink (including alcohol) must be ordered ahead and will be delivered to boxes or, for audience members in bench seats, made available for pickup at designated spots. Orders must be consumed in seats. Marketplaces will be closed. Guests can bring their own snacks and drinks for in-seat consumption only. The traditional picnic areas will be closed.
Artists, concert dates and ticket availability will be announced on May 11th. As in past non-COVID years season ticket subscribers will get first opportunity to renew. Below are some details from the email sent to subscribers. The full details can be found on the Hollywood Bowl website. So excited!
2021 Season Concerts
Based on LA County public health guidance, the Hollywood Bowl will be able to welcome a limited-capacity audience of approximately 4,000 when concerts resume in May, and we anticipate ramping up to greater capacity later in the summer. To kick off reopening, we will host four free concerts for healthcare workers, first responders, and essential workers as a gesture of thanks for all they have done for Los Angeles throughout the pandemic. Three of these concerts are generously sponsored by Kaiser Permanente.
Beginning in July, the Hollywood Bowl will present 14 weeks of concerts featuring a mixture of programming. The lineup of artists, dates, and ticketing details will be announced May 11.
2021 Season Ticketing
More information about how to get tickets and your subscription options will be available May 11. If you currently have a credit on your account from 2020, you can choose to apply that amount to any of your 2021 ticket purchases. The credit will otherwise be carried over into 2022.
2022 Subscriptions
Current subscribers' seats will be reserved for the Hollywood Bowl 2022 season even if they are unable or choose not to attend this summer. As always, our loyal subscribers will have the first opportunity to renew their subscription packages and request any changes before the general public, when renewal information is delivered in late 2021.