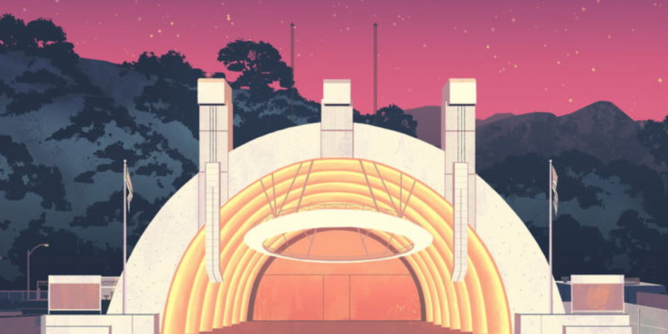 This morning the LA Phil announced the 2020 season line-up at The Hollywood Bowl. The season is made up of Classical Tuesdays (10 concerts), Classical Thursdays (10 concerts), Jazz Wednesdays (8 concerts), World Festival Sundays (6 concerts), Sunday Sunset Concerts (4 concerts) and the Weekend Spectaculars (10 Friday concerts and 10 Saturday concerts).
The 2020 Hollywood Bowl season will officially open on Saturday, June 13th with Brandi Carlile, the Hollywood Bowl Orchestra, and a fireworks display that'll light up the Hollywood sky.
This year's stage play will be School of Rock. A brand-new production of the Broadway hit brings the power of rock and an all-star cast to the Bowl.
Other special concerts announced today were Happy Potter and the Half-Blood Prince – In Concert (Saturday, June 27th) and the Sing-a-Long Sound of Music (Saturday, September 26th).
The performances cover a wide range of musical taste however I wonder if long-time season subscribers will start seeing the same acts each year. I suspect some of these performances may draw non-subscribers. Acts like John Williams, Tchaikovsky Spectacular, Bugs Bunny and even Diana Ross have been at The Hollywood Bowl multiple times.
Here is the official line up. The clock to summer has started!