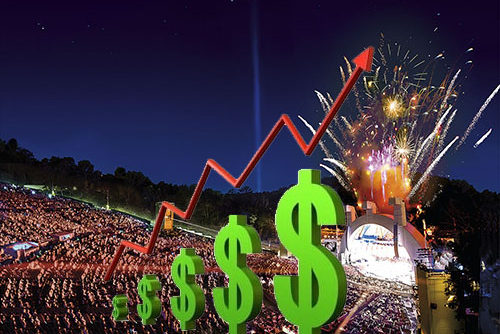 The 2019 season has barely concluded and The LA Phil announced a ticket price increase for the 2020 Hollywood Bowl season, citing increased production, labor, marketing and artists' costs.
The last time ticket prices were increased were last year. Prices were last increased a year ago and have gone up for some seats every one of the last five years.
Most of the increases amount to $1 or $2 per seat, while prices in the lowest-cost section will remain the same. However, concertgoers paying for the highest-priced garden and pool circle boxes will see hikes of up to $10 on weekends and $11 for special event tickets.
More than 50% of all tickets will be priced at $38 or less, and more than a quarter of classical concert seats will be priced at $17 or less.
The Los Angeles Philharmonic Association, which operates the iconic amphitheater, will continue to offer $1 tickets for the 380 top benches during classical and jazz performances on Tuesday through Thursday nights.
The new ticket prices range up to $219 for the best seats on a Saturday night and as much as $373 for pool circle and garden box seats at special events.