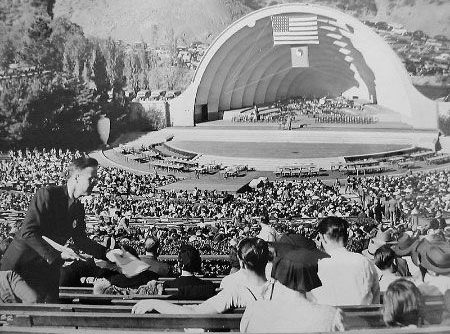 With all the news about natural intelligence AI I thought I would ask ChatGPT about the Hollywood Bowl History. Here you go.
The Hollywood Bowl is one of the most iconic outdoor amphitheaters in the world, and it has been a prominent landmark of Los Angeles since its opening in 1922. Over the years, it has hosted some of the biggest names in music, including The Beatles, Frank Sinatra, and the Rolling Stones, and has become synonymous with the glamour and glitz of Hollywood.
The Hollywood Bowl was built in a natural amphitheater in the Hollywood Hills, and its construction was funded by the landowner, Griffith J. Griffith. Griffith wanted to create a venue that would showcase the natural beauty of the area while providing a space for cultural events and performances. The original design of the Hollywood Bowl was created by the architectural firm, Allied Architects, and the amphitheater was designed to hold up to 18,000 people.
The first performance at the Hollywood Bowl was a concert by the Los Angeles Philharmonic Orchestra, and over the years, the amphitheater became a popular destination for classical music performances. In the 1930s, the Hollywood Bowl began hosting a series of summer concerts that featured big band music and popular singers of the day. These concerts became a major attraction for tourists and locals alike, and the Hollywood Bowl soon became known as the place to be in Los Angeles during the summer months.
During World War II, the Hollywood Bowl was used as a venue for patriotic events and war bond rallies. After the war, the amphitheater continued to be a popular destination for music lovers, and in the 1960s, it became a key venue for the counterculture movement. Bands like The Doors and Jimi Hendrix performed at the Hollywood Bowl, and the amphitheater became a symbol of the hippie movement and the anti-establishment culture of the time.
Over the years, the Hollywood Bowl has undergone several renovations and improvements to keep up with changing trends in music and entertainment. Today, the Hollywood Bowl is a state-of-the-art facility that can accommodate up to 17,500 people and hosts a wide variety of performances, including classical music, pop concerts, and cultural events.
Despite its many changes over the years, the Hollywood Bowl has remained a beloved institution in Los Angeles and a symbol of the city's cultural heritage. It continues to attract music lovers from all over the world, and its unique blend of natural beauty and cultural significance make it a one-of-a-kind destination that is sure to remain an important part of Los Angeles for years to come.